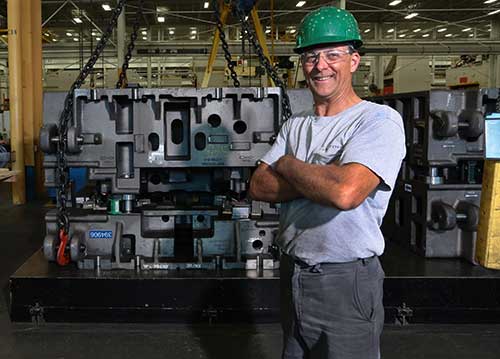 With origins dating back to 1962, Autodie is among the largest makers of metal stamping dies in the United States. The company employs more than 300 skilled machinists, die makers, engineers and administrative staff at a modern 500,000-square-foot facility in Grand Rapids, Michigan and a facility in Salem, Ohio.
As a subsidiary of Fiat Chrysler Automobiles (FCA), Autodie has adopted the World Class Manufacturing production system that emphasizes 10 technical pillars and 10 managerial pillars to achieve overall excellence. We prominently display on our shop floor the overall progress we are making as we implement these pillars, which address everything from safety to how actual costs are assigned to loss and waste. We are particularly proud of our use of kaizens, focused improvement using employee suggestions, and root-cause analysis to reduce cost, improve quality and speed delivery of products.
Customers prefer to work with us because we practice the Autodie Way of doing business: a legacy of building complex, large dies with a high degree of engineering, craftsmanship, and strong work ethic. We make sure our projects are on spec, on time and on budget.
Autodie serves the following industries:
● Automotive
● Aerospace
● Defense
● Commercial Transportation
● Agricultural
● Alternative Energy, such solar power arrays
● Mining and Oil
● Machine Tools
To perpetuate the Autodie Way, we have implemented an apprenticeship program that supports mechanically inclined individuals with full-time jobs at the company as they learn the ropes of becoming journeymen die makers. More than 35 individuals have entered the program offered in partnership with the U.S. Department of Labor and the United Auto Workers. As part of the program, we give apprentices practical experience on the floor and pay tuition for classes held at a local community college for those who achieve.